macramé on line
The On-line Magazine Exclusively Dedicated to Macramé
---
Copper Breaks State Park Museum Profile
by David Turner, Director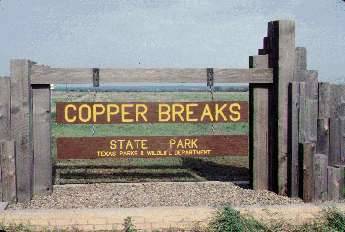 The park is located in Texas, between Quanah and Crowell off of Texas State Highway 6.
RR 2 Box 480
Quanah TX 79252-9420
940/839-4331
cbsp@chipshot.net
The Herdsman: Now and Then
The importance of the herdsman -- culturally and materially -- is the thematic focus of artifacts on display
at Copper Breaks State Park's headquarters/museum. Through both permanent and rotating collections of black
and white photographic collages and panoramas, leather, wrought iron and ceramic artifacts, the museum
celebrates the significance of buffalo and cattle and horses, as well as their role in the lives of the hardy people
of two different races, of two disparate cultures, who came to the north Texas region and developed entire
societies based on the business of tending them.

Brief introductory panels introduce the visitor to the Copper Breaks region, highlighting its geological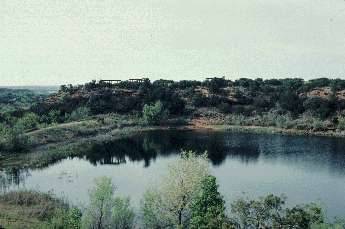 formation, its prehistoric, historic and current wildlife, and its early transformation from brackish inland sea to
brushy grassland.

The majority of the front section of the museum is dedicated to the Native American Herdsman.
Dominated by a three-quarter scale bronzed fiberglass sculpture of three buffalo, above which is a four-panel
mural of a Sioux buffalo hunt, the room features glass cases containing prehistoric and historic American Indian
artifacts. Projectile points, parfleches, bead rattles, and trade goods such as metal knives fill the cases. One
section deals with the powerful and charismatic Quanah Parker, last great chief of the Comanche and son
of Chief Peta Nacona and the white captive Cynthia Ann Parker. A detailed diarama depicts the recapture of
Cynthia Ann by Texas Ranger Sul Ross in 1860.

In colorful contrast to the historical presentation are the ten macrame hangings by archaeologist/artist Stephen Harmon. Centrally presented on a ceiling-high support pillar,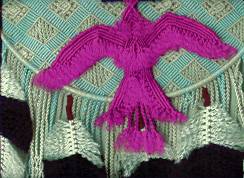 the hangings. Traditional native themes of hunting, animals, animal spirits, and war are brilliantly executed, most using clove hitch techniques, in finely textured yarn, and accented with authentic trade beads, feathers and the like. Animal representations, such as "Algonquin Moose" and "Paiute Sheep" resemble prehistoric Native American rock art found throughout the Southwest. The familiar flute-playing Kokopelli is another theme, rendered effectively in macrame as a brightly-hued dream figure. From Navajo mythic imagery to the Sioux celebration of horses, Harmon's macrame art captures a spiritual aspect of the tribal life of the Indian
herdsman in a uniquely manual labor of love.

The museum then moves the visitor past the dominance of the American Indian to the emergence of the American rancher - an occupation that elevated the herdsman lifestyle from its semi-nomadic beginnings to its new place at the center of a major agribusiness. Large photographic collages and panoramic images, some by the noted Texas livestock reporter Frank Reeves, show cattle drives, brandings, chuckwagons, auctions and other similar cowboy era themes. An authentic chuckwagon, donated to the CBSP museum by the prominent O'Neal family, provides a central focus for the glass cases that present ranchlife artifacts, ranging from household ceramics and an early sewing machine to weapons, leather chaps and furniture.

This part of the museum holds the Campsey Collection, a private assemblage of approximately two
dozen metal artifacts found in Hardeman County and dating from the early days of the American herdsman. All
evoke harsh conditions and even harder times. A cast iron plowseat, for example, is a reminder that even sitting
down on the job was hard work. Items such as blacksmith tongs, shears, harness bits, and other common tools that
see present-day use only on the ranch, reveal themselves to be prized for their durability and practicality.
The artifacts of the Campsey Collection are on extended loan to the Copper Breaks museum through the generous contribution of Quanah businessman Larry Campsey.

In addition to the permanent and semi-permanent exhibits on display , the Copper Breaks museum hosts
an annual art exhibition each summer dedicated to Western art. It has featured photographs by longtime Texas
livestock reporter Frank Reeves, as well as works by noted Texas artists in a wide range of media: paintings by
Marcia Haynes, Margie Streit, Joe Urquizo; macrame by Stephen Harmon, beadwork, sandpaintings, photographs, prints and more by a number of artists. The Third Annual Summer Art Exhibition, scheduled for June 1999, willshowcase works by local artists.

Museum staff and volunteers offer a variety of interpretive programs throughout the year. Flintknapping
demonstrations, Indian storytelling, and living history are among regularly scheduled special events designed to
draw visitors to Copper Breaks and enhance their outdoor experience.
Cowboys and Indians. Or Indians and Cowboys. Buffalo and Cattle. Two stories with more
similarities than differences, told by artifacts and photographs and given life through art and interpretation. The
herdsmen.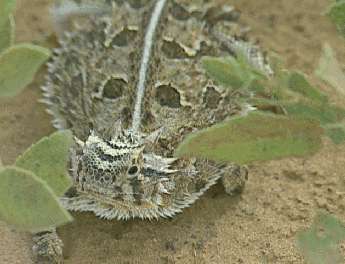 For more information on Copper Breaks State Park, its museum, programs or facilities, call (940)
839-4331 weekdays during business hours.
Or visit our site at:
www.tpwd.state.tx.us/park/copper/copper.htm#attractions
Visit the Summer Arts Exhibition coming July 24, and ending August 22, 1999!! With a crafts demonstation/show July24,1999.
---
Home
---
Visit our Sponsors, as they pay our Authors
---
Magazine Description Discovering Archaeology is a bimonthly magazine reporting on the latest discoveries in archaeology and archaeological science. Through informative articles, vivid graphics, and beautiful photographs, readers will take part in the latest discoveries from around the globe — both on land and underwater. The magazine is an authoritative source for the latest breaking news in the archaeology.
Magazine Description American Heritage uses the lens of history to provide a unique perspective on art, literature, politics, travel, and the changing lifestyles of Americans.
Magazine Description Expertly researched articles, galleries of period photos and full-color reproductions of paintings, posters, banners, flags, and artifacts can all be found in the pages of American History. The magazine also offers book news, reviews, history updates, and information about museum exhibitions.
---